In order to use the ProctorU remote testing service offered through the Testing Center, you will need to create an account with ProctorU.
You will be required to take a live picture with your webcam as part of the account creation process. Make sure you are using a computer with a webcam before you begin.
Accounts may take up to 48 hours to be activated.
To create your account, go to https://www.proctoru.com/instructor-training and click on "Create Your Account."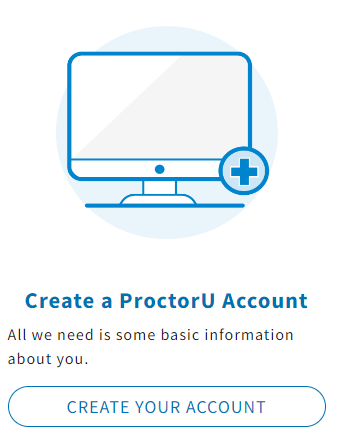 Your web browser will ask for permission to use your webcam. Click "Allow."

Select "No" for "Do you have an immediate exam that needs to be entered?"

Select "College of DuPage" as your Institution.
Enter your legal first and last names.
Under Account make sure you use your College of DuPage e-mail address. Your username and password are unique to ProctorU, they do not need to be the same as your college credentials.
Enter your Time Zone.
Under Contact you must enter a phone number. ProctorU will use this phone number to contact you in the event of a problem with the test.
Enter your country under Address. You do not need to provide a full address.
You will now need to take a profile picture with your webcam. If you did not click "Allow" in Step 1, click "Enable Webcam" and then click "Allow" when your web browser asks for permission to use the webcam.

You will see a preview image of your webcam. Click "Take Snapshot."
Your snapshot will be displayed. If you need to take a new one, click "Take Snapshot" again.
Read the Terms & Conditions and select the checkbox to indicate you agree.
Click the checkbox to indicate you are not a robot (if you are a robot that is very cool and please come visit us in Learning Technologies).
Click "Create Account."
You should receive an e-mail from ProcorU that says "Your Instructor Account is Under Review." The review process may take up to 48 hours. You will receive a confirmation e-mail when your account has been approved.