Tests can be created to assess knowledge, gather additional information about students, or collect feedback for the class. Tests are typically automatically graded, unless instructor graded questions like short answer are included, and automatically create a grade center column when added to the course.
Navigate to the Course Management Menu. Click Course Tools and then select Tests, Surveys, and Pools. Then select the type of activity you would like to create.

Tests
Tests are sets of questions that are graded to measure student performance. Once a test is created here, it must be deployed within a content folder before students can take the test. Test results are reviewed in the Grade Center. Note that some question types are not automatically graded.

Surveys
Surveys are not graded, and student responses are anonymous. They are useful for gathering data from students that is not used to evaluate student performance. Surveys must be deployed in a content folder for students to respond to the survey.

Pools
Pools are sets of questions that can be added to any Test or Survey. Pools are useful for storing questions and reusing them in more than one Test or Survey. You can also create a pool of 20 questions, for example, and create a test where 10 questions are randomly selected from this pool. This allows for greater variations of your course tests. 
For this guide, a test will be created. After selecting Tests, click Build Test.
Enter a test name and any optional descriptions and instructions. Then click Submit.
Questions can now be created on the Test Canvas.
Highlight the Create Question button to select the type of question to create.
When creating questions, enter a name and the text of the question. For this guide, the Multiple Choice option will be used.
Options for questions include the ability to show answers in random order, the numbering of possible answers and if answers should be displayed vertical or horizontally.

In the Answers section, select the number of the possible answers for the question.
Enter the text of each possible answer and select the Correct radio button for the correct answer.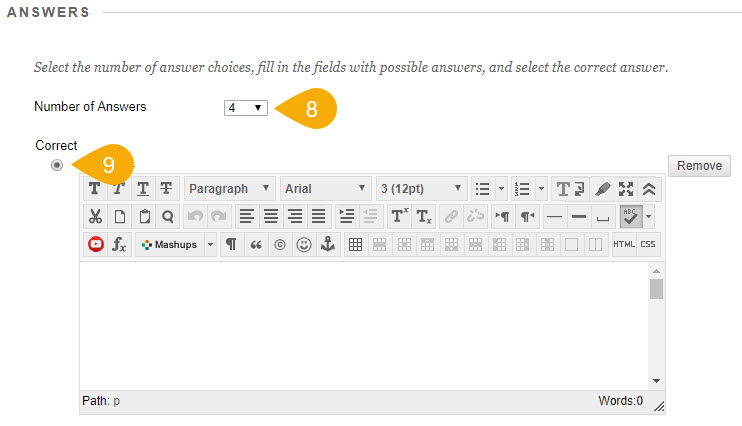 Additional Feedback can be entered for correct and incorrect responses. This would include any supporting text for students to view after they submit the test and review their scores.
Additional tags for categories, topics, levels of difficulty, and keywords are optional and can be added to sort questions.
Click Submit and Create Another to continue adding questions to the test. Click Submit to finalize all of the test questions.
The amount of points possible for each question can be edited by entering a value for Points.
All of the question point values can also be changed at one time. Select All and enter a value in Points. Click Update. All questions will then be worth the entered point value.
The test has been successfully created. Navigate to the course location where students will access the test and follow the instructions on Adding a Test to a Course.