Columns in the grade center can be easily reordered, hidden, deleted, and categorized through the Column Organization feature. While the horizontal scrolling nature of the grade center can make it difficult to view all columns, the Column Organization tool features a layout that is clear and easy to use to view the grade columns and their details.
Navigate to the Course Management Menu. Click Grade Center and then Full Grade Center. 


Select Manage and then click Column Organization.


To reorder grade center columns, click the icon to the left of the column name. Then drag the column to it's preferred position.
You can also click the up/down arrow icon to reorder the names of the columns from top to bottom.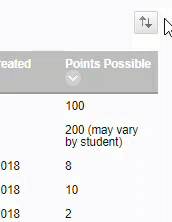 Once the columns are reordered, click Submit to save the changes.