The preferred method for collecting assignments is using Assignment Submissions in Blackboard, but for files larger than 100 MB, using OneDrive to collect submissions is the recommended alternative solution. Also, having students submit assignments through Blackboard allows you to use the inline grading tool, but for more robust feedback, Word may be your preferred tool.


Login to OneDrive with your COD username and password.
Create a folder for the submissions:
In OneDrive, select New and then Folder

Name your Folder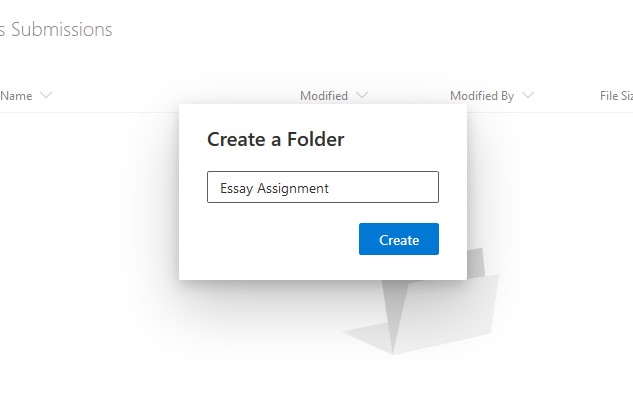 Requesting Files
Right click on the folder or select the three vertical dots to bring up a menu
Select Request Files


Enter a name for the files you are requesting, this is the name that students will see.
Click Next


You will have two options for requesting files. You can either copy the link and share it in Blackboard or in a custom email to your students, or you can enter the students' email address and have a request email sent directly to them.


Receiving Submissions
When students start uploading their files, you will receive an email notification. You will also see their submission in the folder you created. The name that they enter when they submit the file will be added to the beginning of their file name.