The external grade column is used to populate grade verifications in the Academic Records Integration tool and is the main grade shown to students when they are using the Blackboard app. The default external grade is the Grade Center Total column. However, you are able to choose which column to set as the external grade. This is helpful if you use weighted grades or create a different calculated column for your overall grades.
The Grade Center column that is set as the external grade column is marked with the check mark icon.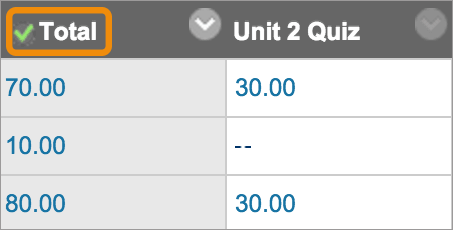 To set the external column, navigate to the course Grade Center.


Click the downward pointing chevron next to the column name.


Select Set as External Grade.


A green check mark will then display next to the column name.