Starting in the Spring 2022 term, cross-listed courses will display differently in Blackboard. Instead of a single shell displaying in your list of courses, all individual sections will display along with a master shell. This means you'll see both shells – the master shell and the individual/child sections – in your course list.
While you can click on the "child" class, you should only use the master shell for the cross-listed groups. Students will not see anything posted in the child shells, and grading will not work in the child classes.
NOTE: Course imports and copies should also only be done in the master shell since no content should be loaded in the child course. If you try to do a course import into a child shell, it will result in an error that it is a child course and cannot be used as a copy destination.
The "child" class is marked as unavailable and displays the master class that it belongs to. If you enter a child class, a warning will display at the top of the page instructing you to use the master class.
Students will only see the individual class they registered in and, when they click on their class, they will be accessing the master shell. This should eliminate previous confusion when some students saw different section codes than the class they accessed. As a result, they will be interacting with all students in discussion boards and other items throughout the cross-listed class.
The list of courses is really long. Is there a way to hide the child courses?
Yes, you are able to manually hide courses that you would not like displayed on the Blackboard course list. You can do this for child classes or any other past courses you would no longer like to display after logging into Blackboard. This does not remove the courses from your Blackboard account, they're just hidden from the regular view.
1. Click the Settings gear in the My Courses module.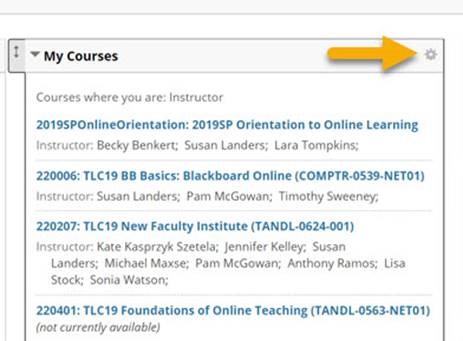 2. This will open the Edit Course List screen where you can select which courses to display or hide in the My Courses module.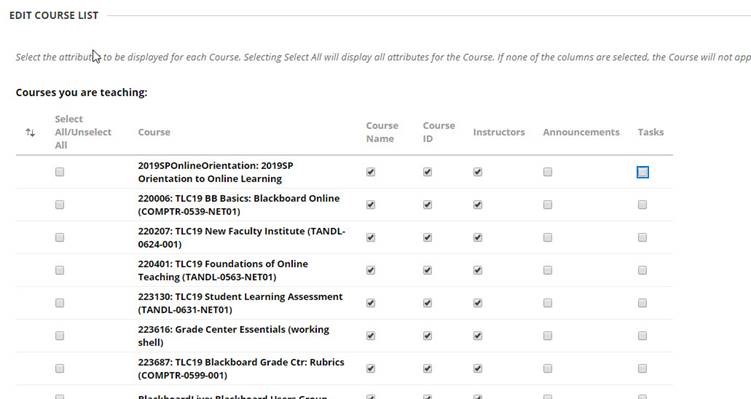 3. "To hide a course from the list, uncheck any checked boxes to the right of the child sections only, not the parent section. If you would like the courses to display in your course list, navigate back to the Edit Course List screen and check the boxes to add them back to the course list. You'll be able to do this as long as the course still exists in the system.