All tests and assignments with manual grading require the instructor to enter student grades and additional feedback.
Providing Additional Assignment Feedback
Additional feedback, including attachments, can be provided to students.
Click the contextual menu chevron for an assignment attempt. Then click Attempt.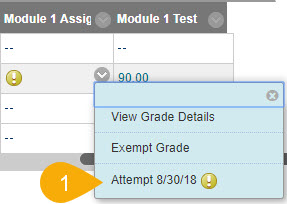 The assignment submission will display on the screen. Overall grade and additional feedback can be entered in the Assignment Details sidebar.
Click Attempt to enter the assignment grade.
SafeAssign reports (if applicable) for the student assignment can be accessed through the SafeAssign link.
Overall feedback for the student assignment can be added under Feedback to Learner. Attachments can also be provided in this located by clicking Insert File. A full content editor is also available by clicking Click to open full content editor.
After all annotations, grades and feedback have been added to the assignment attempt, click Submit.
Inline Grading
The New Box View inline grading tool allows instructors to streamline the grading of assignment submissions. You can easily provide feedback and annotate student submissions directly within your browser, without the need to download individual files. Students are then able to see your feedback and comments in their My Grades section.
Inline Grading with New Box View
Adding Grades and Quick Comments
Navigate to the Grade Center to begin adding grades and feedback.
Grades can be entered in any cell in the Grade Center. Click on a cell and enter the amount of points to award the student.
Press Enter to save the grade entry.

After a score has been awarded to the student, additional feedback can be provided.
Click the contextual menu chevron to the side of the score.
Click Quick Comment.

Comments left in the Feedback to Learner box can be viewed by students. Grading Notes offers a location for instructors to privately add comments for why students received their grade.